Books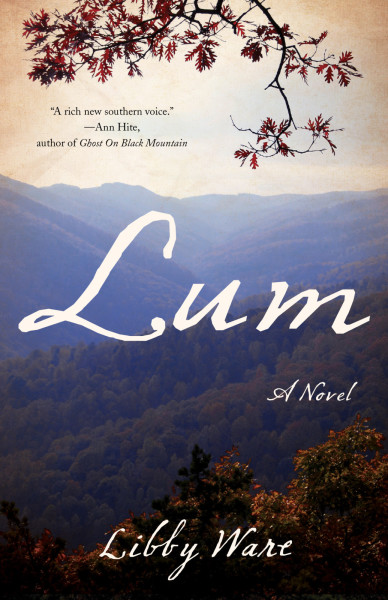 My novel, Lum, an historical novel taking place in Depression-era Virginia, will be published October 2015 by She Writes Press.
Lum has been awarded the American Library Association's 2016 Stonewall Book Award, being named one of the Barbara Gittings Literature Award Honor Books, in addition, Lum won a gold medal from the Independent Book Publishers. Lum is a finalist for the Lambda Literary Award and for the Foreword Review's INDIEFAB Award.
Advance Praise
"…a startlingly good debut novel" —Atlanta Magazine
"A treat for those who appreciate character-centered historical fiction. Lum's courageous journey toward independence makes her a heroine worth rooting for, and readers will find themselves missing her company after the final page turns." Historical Novel Society
"Lum is a captivating novel about outsiders, race, a little-known part of our history, and the power of self-acceptance and resilience. Libby Ware writes with a charismatic Southern voice that will appeal to readers of Ron Rash, Lee Smith, and Wiley Cash. I read Lum from start to finish in one day and relished its fresh characters and take on history. Grab the paperback original or download the novel on your e-reader, select it for your book club, and get ready for a rip-roaring discussion."—Hungry for Good Books Blog
"Lum is an engaging portrait of a village in the Virginia Blue Ridge during the Great Depression. Lum's courageous journey to selfhood is profound and moving, and a metaphor for the process of self-acceptance necessary for anyone who doesn't fit into traditional social norms." —Lisa Alther, author of Kinfolks
"Libby Ware has written with a rich new southern voice and captured the dying art of storytelling in her debut novel."
—Ann Hite, author of the award-winning Ghost on Black Mountain
"Ware accomplishes … a central purpose of historical fiction. It can preserve history, especially the history of marginalized people that would otherwise be lost to us. It can take people we know existed, because they've always existed, and write them back into history."— Sandra Lambert, author of The River's Memory
Lum has always been on the outside. At eight, she was diagnosed with an intersex condition and told she couldn't expect to marry. Now, at thirty-three, with no home of her own, she is shuttled from one relative's house to another—valued for her skills, but never treated like a true member of the family. Lum secretly collects postcards of people like the Dog-faced Girl, imagining their stories, and nurtures her lifelong friendship with Smiley, an African-American man who sells furniture, odds-and-ends, and a little moonshine. But when the Blue Ridge Parkway is slated to come through her family's farmland, everything is turned upside down. As people takes sides in the fight, the community begins to tear apart—culminating in an act of violence and subsequent betrayal by opponents of the new road. For Lum, however the Parkway brings not only loss—but also unexpected opportunities.
Purchase
Please support your local independent bookstore. They can order any book for you. Go to Indie Bound to find the nearest independent bookstore.
Also available at: